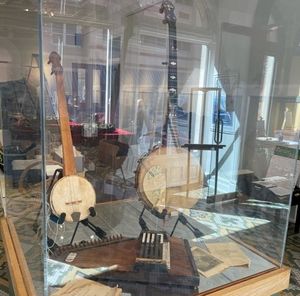 Join us on April 23, from 4-6 PM for the exhibit opening of "Music & Miniatures of Note In The Valley" at the R. R. Smith House for History and Art, Augusta County Historical Society in Staunton, Virginia.   
This new exhibit is a whimsical pairing of the region's musical stories with miniature scenes from the Valley's past. The exhibit is directed by Shenandoah Music Trail members Don DePoy and Martha Hills (aka Me & Martha) and includes a miniature history dioramas created by Gary Whistleman. The exhibit will feature a collection of instruments, music artifacts and showcasing active musicians currently playing in Augusta County.  The dioramas capture events of the Valley and past events. 
The opening celebration is will include live music in the courtyard. The exhibit will be open to the public until September 6, 2021.